Portable dome Ø8m for Charleville Castle event, Tullamore, Ireland
Create unique event! with Geodome Marquees! Events/presentations/Chill out lunges/VIP private parties/Weddings! Call for bookings! Ph.0879168614
---
Charleville Castle event,Tullamore Create unique event! with Geodome Marquees! Events/presentations/Chill out lunges/VIP private parties/Weddings! Call for bookings! Ph.0879168614

Currently, the Charleville Castle Heritage Trust is managed by Dudley Stewart, with the day-to-day running handled by volunteers. Events held at the castle have included including "fright nights", an auction and a play by the English Chamber Theatre called Dearest Nancy, Darling Evelyn
We produce the highest quality and top-level architectural projects for the commercial, housing, healthcare and education markets. Design and construction of space frames, domes, shells and free-form structures whose products meet the requirements of sustainable buildings. Geodomas maintains high engineering standards and talented management to consistently ensure that the design, construction and maintenance requirements of each design and application are accessible.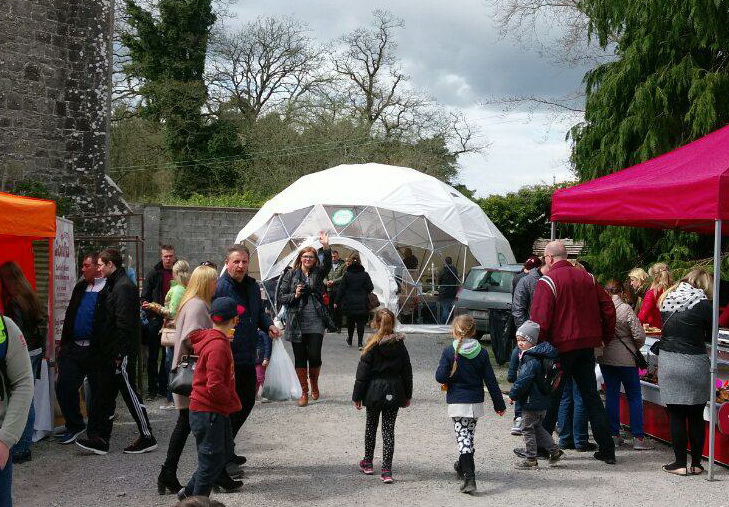 We ship resort structures around the world for all kinds of purposes. No matter where your resort or camp is located – whether on water, rocks, desert, sand, grassy plains, tropical beach, ice field or dense rainforest – we will ensure that it is designed, built and built to be environmentally and economically sustainable, secure and durable.
Additional Info
Object page:GEODOME.IE
Object address:Tullamore
Technologies:Steel frame elements, Membrane cover
Project date:2016
Floor area, m2:50
Cover area, m2:100
Geometry type:Icosahedron

The GEODOMAS Team will gladly answer any questions you might have and offer their creativity and experience to come up with the best solution for your project. Do not hestitate. Get in touch!

Portable Domes