Events Domes | Design Manufacture Sale & Rental
Event dome tents are the perfect alternative to all the typical event solutions such as marquees. Their unmistakable and unique shape, as well as the intricate framework of the structure, create an incredible sense of space, ensuring a distinguished venue and setting, and being an effective part of your marketing strategy.
Geodesic domes of class LUX are in a perfect condition and are ideal for any family or corporate events. Moreover, we can build a geodesic dome of your dreams that would be in any desirable type or shape!
Invite your guests into a whole new setting, with the captivating architecture of our domes' interior, we can assure that the event will turn into a truly unique and memorable experience for everyone. GEODOMAS dome tents offer you the unique opportunity to go beyond the standard solutions and present your company and products in an exuberant way.
EVENTS DOMES TECHNOLOGIES
Steel structures
The geodesic dome method allows you to create a light, well protected and very stable space. The main advantage of geodesic domes is the even distribution of stresses in all frame nodes.
EVENT Domes do not require any columns, load walls or columns inside to allow the customers to use the maximum available area. By using steel structural elements structure becomes sustainable in terms of weather factors and loads.
The structures can be connected with tunnel paths;
The cluster of connected domes creates an extraordinary sense of scope, allowing the event infrastructure to be categorized by theme using different designs;
We offer most popular colored powered coatings;
Each geodesic dome structure is designed according to load calculations. This in turn ensures safety and durability. Our structural engineers can calculate the maximum loads of the equipment suspended by the geodesic dome of regional norms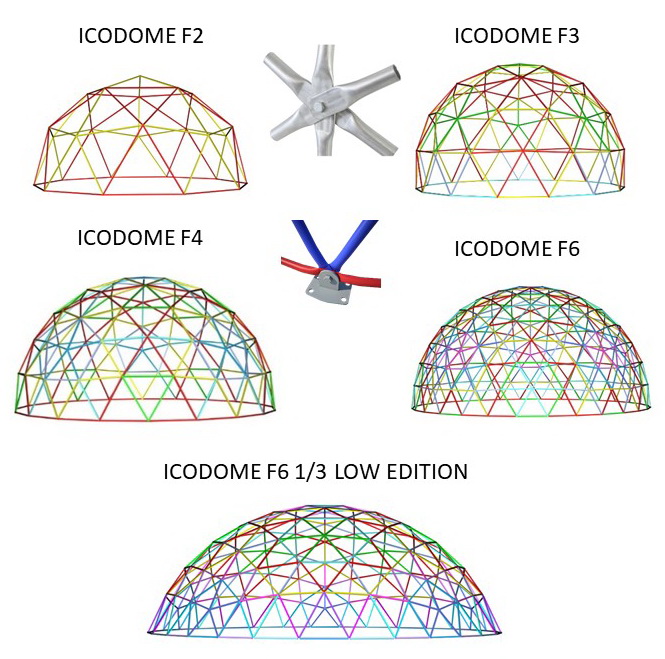 Cover Membrane
For geodesic dome covers we use the highest quality PVC tent fabrics. All our fabrics are certified and meet European Quality and Fire Resistance Standards.
Detachable dome coating is known for its strengths and long service life. Due to the frequent weaving, the material is resistant to punctures, scratches and cuts. It is very easy to keep the dome covers clean.
GEODOMAS durable covers are available in a variety of colors, resistant to mold and mildew, protected from UV rays and fire resistant. All fabrics have certifications to fire-retardancy NFP 92507: M2 ; DIN 4102: B1; EN 13501-1: B-s2-d0, BS 7837.
The upper part of a cover is fitted with self-ventilated chambers;
Triangular ZIP windows – windows are fastened with zippers and there is a detachable mesh against insects inside;
We offer many colors;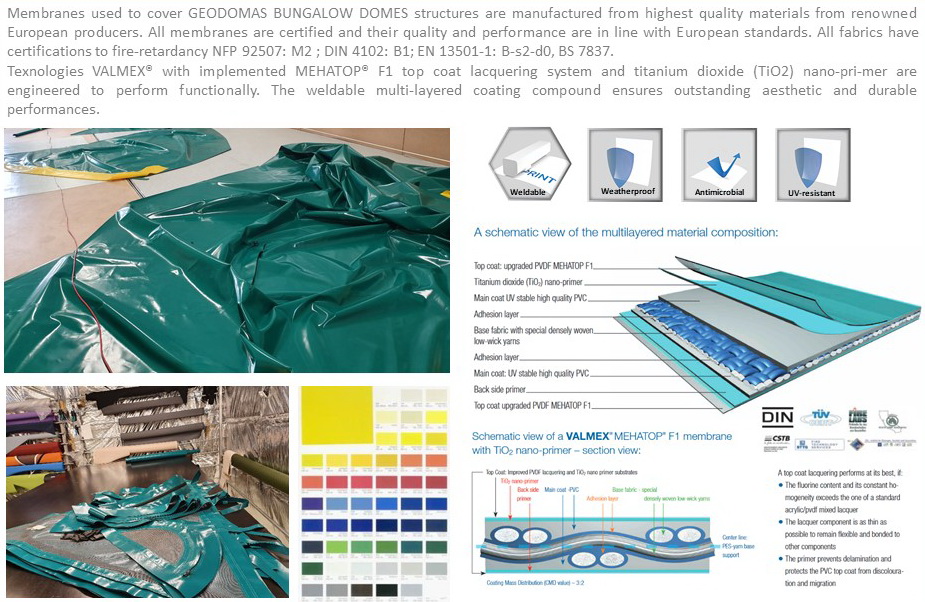 ZIP windows & Top ventilation opening
Our gravity ventilation system creates correct air circulation inside the dome.
Triangular ZIP windows – PVC tent windows are fastened with zippers. There is a detachable mesh against insects inside.
The upper part of a dome is fitted with self-ventilated chambers.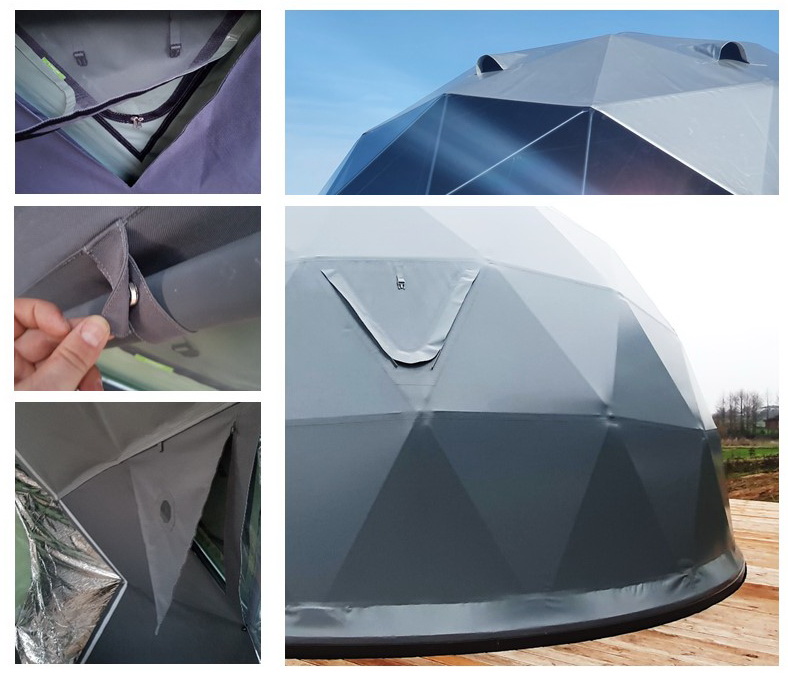 Panoramic Window
Crystal clear film for use in event, catering and commercial tents. Various strengths are available, which are also available in flame-retardant versions. Burning behavior DIN 4102: B2, NFP 92507: M2
Temperature range: from -20 ° C to + 80 ° C;
Easy to clean;
Enhanced privacy;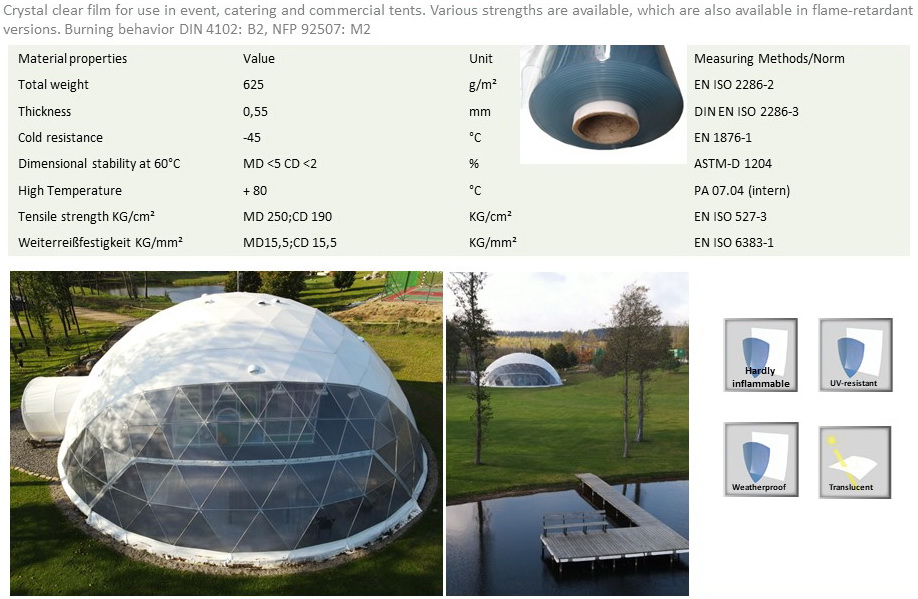 Door System
We have different types of doors for choice in various colors and materials:
Standard (square) plastic doors
Aluminum doors
French type doors (with glasses)
Doors can be adjusted into round shape so-called 0-door.
Round doors (0-doors) can be connected with other domes (Modul system) with tunnels.
Doors type & dimensions can be individually adjusted.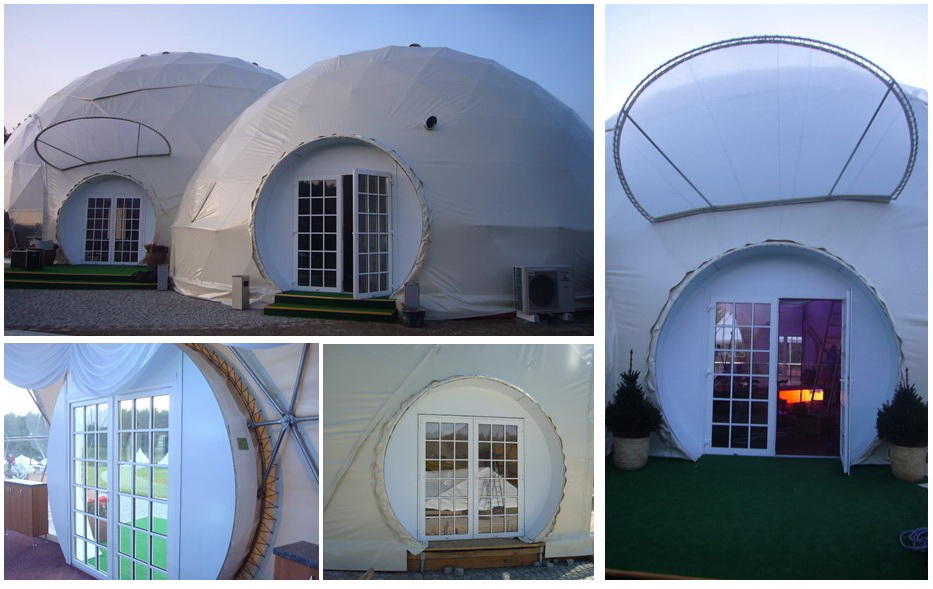 Ground Screws
Ground Screws are a high performance solution to all your ground anchor needs. They are precisely adjustable, storm proof, suitable for all types of ground, resonably priced and easy to remove and re-use.
The Ground Screws are installed, using a number of different screwing aids and machines. Perfectly perpendicular and at the exact point in a matter of minutes. This new screw – in foundation system is not only suitable for natural ground, but also for dense, and even tarred surfaces. Applications are countless, from securing garden umbrellas, windy dryers and fences; to carports, flag poles and traffic signs. Solar panel systems, advertising boards and even outdoor buildings for events and expositions are quickly and easily erected and removed.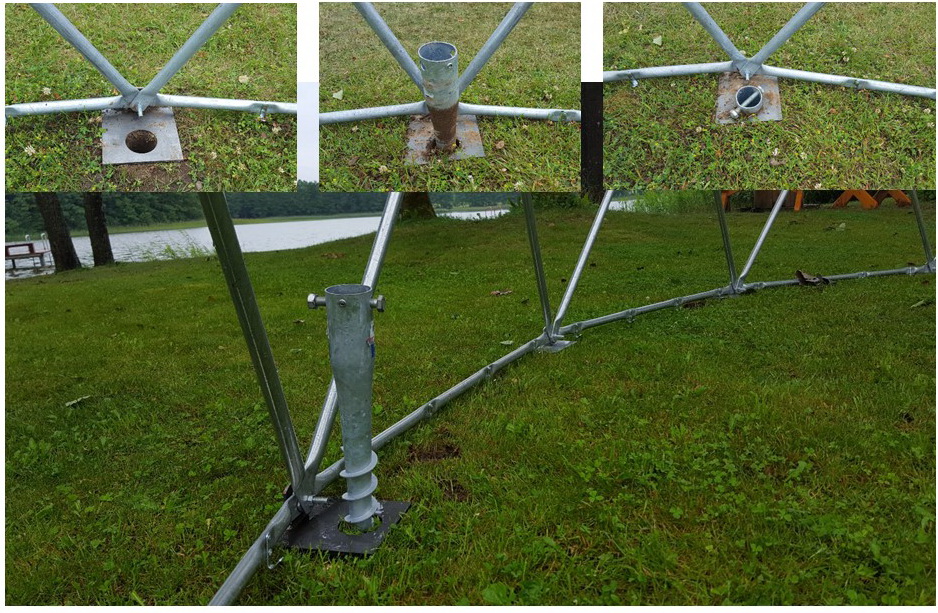 Stage Dome for event
Our mobile stages are specially built for Ireland's festival and events industry.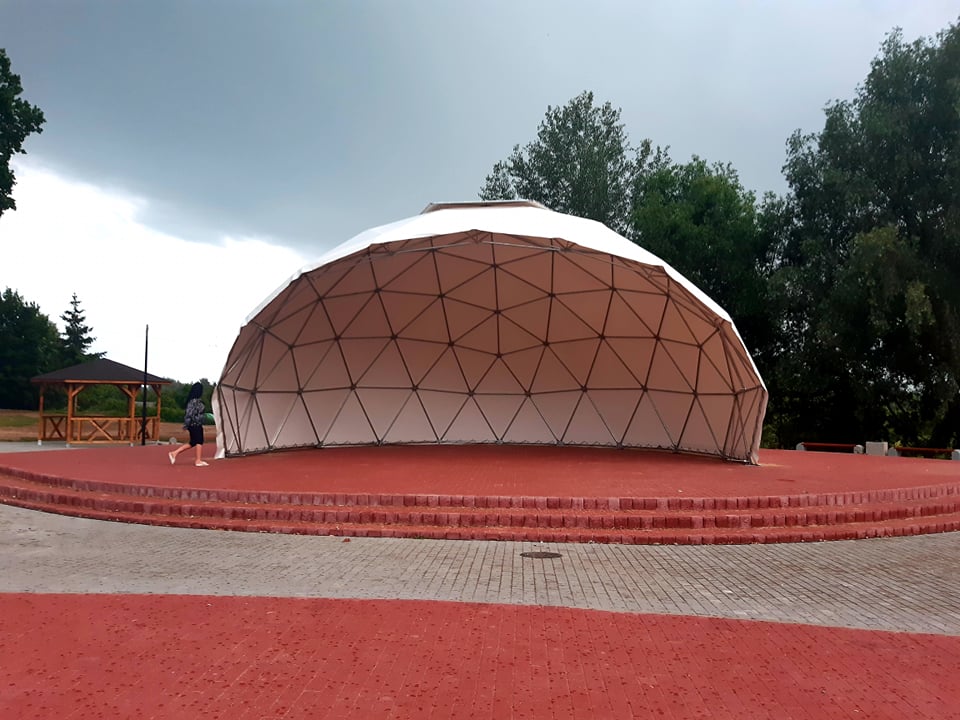 Mobile Flooring system
Depending on the type of event and the number of people, the load can be 400 kg – 800kg per sq. m. Flooring is moisture-resistant laminated plywood with non-slip surface or carpet or other finish coatings.
Wood frame system
Aluminium frame system
Virus disinfection system
LED UV-C disinfection system is available in 50W – 200W configurations, suitable for any size indoor space.  Rotatable LED UV-C modules focuses disinfecting light on targeted surfaces with accuracy while saving energy vs quartz based UV-C pressurized gas tubes.  Long life with advanced features such as 360 degree motion sensors, remote control via any web connected device and automatic shutoff provides a safety and ease of use.  No harmful mercury or ozone.
Instant, invisible bacteria exterminator
Anti-microbial disinfection 99.9% effective
Inherent timer controls with buzzer alarm
Motion detector with automatic shutoff
Easy to transport and store
No mercury or ozone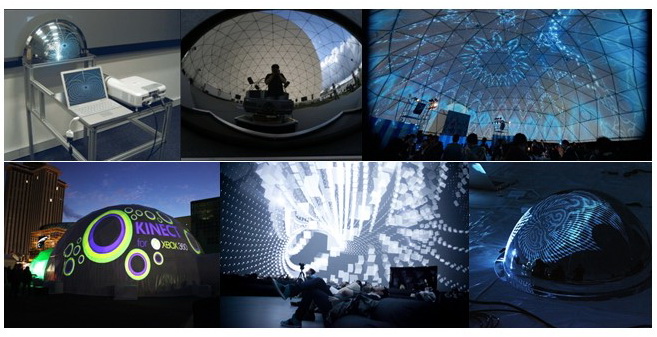 360 video projection & Fulldome cinema
Fulldome cinema has become increasingly popular in recent years because advances in projection technology and dome construction have made fulldome cinema more accessible to a broader range of applications.
We is delivering scalable immersive fulldome cinema solutions and also provides fullservice from concept development, movie consulting, design to installation, technical and event support and maintenance. Fixed installations as well as rental solutions for many different applications are available:
Events and Trade Shows
Theme Parks, Amusement Parks
Planetariums, Science Centers
Visitor Centers
Simulation and Training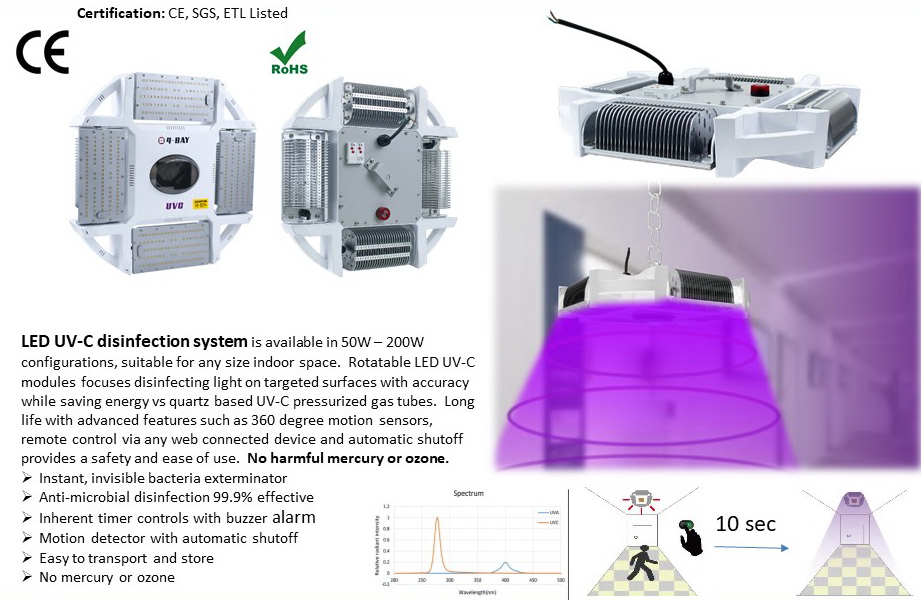 Acoustic & decoration curtains
Sound absorbing drapery primarily designed to absorb more sound than standard decorative curtains.