47m² Glamping Village Ø6m | WC & Shower ROOM
Glamping Bungalow domes are a new line of self-assembly products that revolutionize hospitality industry and suitable for all seasons.
Whether you are seeking an alternative living environment, or a dynamic personal studio for writing, art, or performance, step into the natural flow that only a custom designed geodesic dome can offer; domes offer an experience that is sure to revive, enhance and unleash your creative flow. The scope of work tempearatur – 40°C to +80°C :: R [m2 K/W] = 2,639 m2 K/W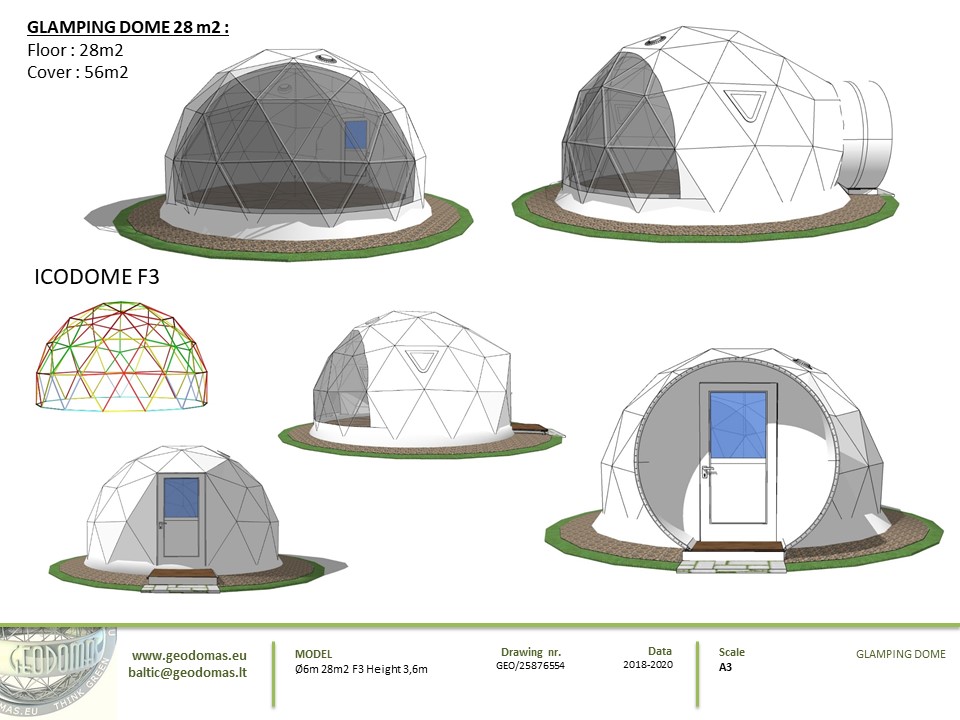 Enjoy your dream home or personal studio, for a fraction of the time and investment demanded by traditional construction. Our eco living domes are built easily and quickly, reducing construction costs, using the least amount of resources to enclose space, and are uniquely affordable–allowing you to live mortgage-free.
Energy efficient, low-energy consuming Geodesic domes are sustainable, which is about responsibly managing resources.
The potential is unlimited. Host an amazing event that creates an unforgettable impression, transform your resort into an eco friendly paradise or simply live a sweet life in a beautiful alternative space.
We produce the highest quality and top-level architectural projects for the commercial, housing, healthcare and education markets. Design and construction of space frames, domes, shells and free-form structures whose products meet the requirements of sustainable buildings. Geodomas maintains high engineering standards and talented management to consistently ensure that the design, construction and maintenance requirements of each design and application are accessible.


We ship resort structures around the world for all kinds of purposes. No matter where your resort or camp is located – whether on water, rocks, desert, sand, grassy plains, tropical beach, ice field or dense rainforest – we will ensure that it is designed, built and built to be environmentally and economically sustainable, secure and durable.
Glamping Domes
Our
Projects